The Carp Porter range, British and proud of it.
Each Carp Porter product is well designed, manufactured to the highest quality and tested at each stage to ensure it is the best.
Specialists in tackle transportation
British patent 2324070 pat app 0228725.8
reg design 2069430, 2070421, and 2072267
Carp Porter have been specialising in the manufacture of tackle transportation for twenty years. The experience gained during this time is your assurance of quality. We are one of the few companies left who design and manufacture the product of our own factory in England. (You would be surprised how much carp tackle is made in the far east even by the better known companies). When you purchase one of our products you are assured of a top quality hand made British product. This combination is rare to find. Our products are all guaranteed, and spare parts are always available for all models. It is a fact that most of the top anglers use our barrows out of choice. Also note that we are the only company who specialise in fishing barrows.
Why do top anglers use the Carp-Porter?
When you buy a carporter you can be 100% confident. It is a tried and tested product. It has evolved over the last 20 years, but the same basic design applies to all models. A testament to the brilliant design is that the original mk2 still sells well. Other companies have tried to copy the carporter idea however there is only one barrow consistently used by the top anglers. The Carp Porter.
Also many of these original barrow are still being used. When you place your heavy tackle on and lift you will be amazed how light and easy to manoeuvre it is. Good ground clearance assures that pushing through high wet grass or brambles is easy.
IF YOU ARE CONSIDERING BUYING ANOTHER MAKE OF BARROW, COMPARE IT LOADED WITH OUR THEN MAKE YOUR DECISION.
A WELL KNOWN ANGLER SUMMED IT UP RECENTLY. 
"THERE IS NO DOUBT THAT THE CARPPORTER PUTS CARRYING TACKLE INTO A NEW DIMENSION........IT IS DEAD EASY TO PUSH AND WILL COMFORTABLY NEGOTIATE SOME ROUGH TERRAIN.. BUY THE CARP PORTER FIRST AND THEN INVEST IN THE TRIPORTER WHEELS.   THEY ARE ALL MADE BY HAND AND EXTREMELY MADE AT THAT.  TACKLE TROLLEYS DONT COME BETTER THAN THIS."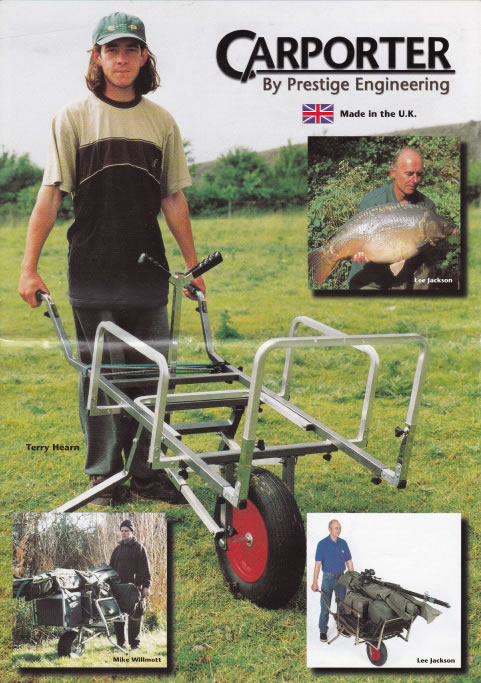 ONE OF OUR ORIGINAL TESTERS TERRY HEARN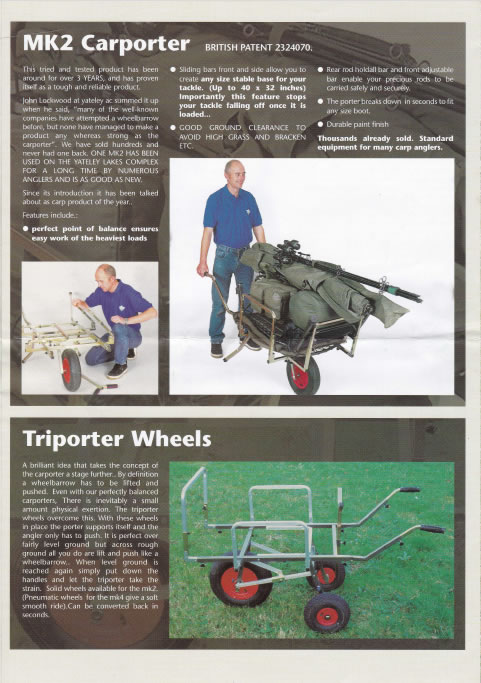 ONE OF OUR ORIGINAL TESTERS LEE JACKSON